Peter Bridge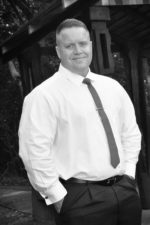 Sales Consultant
Certificate In Real Estate

Peter Bridge joined the sales team at Elders Port Macquarie in June 2017, with loyalty and respect being the key values he brings to his Real Estate career.
Having a passion for building relationships and helping his clients fulfil their property dreams, is the ultimate reward for Peter. His sincere approach and genuine demeanour adds value to both buyers and sellers in transacting one of the largest financial commitments they experience.
As a Return Serviceman, he loves working as part of an active professional team.  His military background, attention to detail, self-discipline and willingness to go the extra mile benefit his career and the keen following of clients he has established.
Peter is generously involved with community groups and the local sporting community.  He also mentors troubled youth and is a White Ribbon Ambassador.
Married to Claire who is a local personal trainer, he has two older children Therese and Kayne who reside in Wollongong NSW.
Join Peter on his Facebook profile or call in for a friendly chat to see how we can keep your property dream alive so you can live the life you choose with our help along the way.

02 6584 1199
02 6584 1119
0421 700 662