Adam Holborow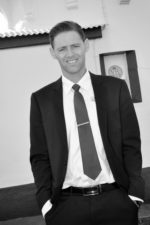 Partner (Sales)
Adam Holborow
Licensed Real Estate Agent
Joined Elders Real Estate Port Macquarie: September 2017
I love Port Macquarie, the climate, the environment and the people. I have lived here for 30 years and it is the place where I intend to live and raise my young family. My passion for this area is matched by my drive to provide top level real estate sales service, by finding you the perfect property to purchase or by selling your property in a timely and professional manner. People, not just real estate, are my business and I believe it is by building relationships with potential clients and vendors that I can best meet their needs and produce positive outcomes.
In my journey to real estate I have been involved in other vocations where I have developed customer service, people skills, organizational skills and self discipline which I know will stand me in good stead in this industry. I am excited to join the fantastic team at Port Macquarie and know that the professional team support provided by this group of people is one of the reasons for their wonderful reputation in this area! I feel so privileged to be a part of it!
On the home front, I am married with 3 small children and I am now getting back into fitness. This was a huge part of my life before children where I competed as a professional Triathlete both locally, nationally and internationally. The ability to achieve in such a sport demonstrates my dedication and commitment to everything I am involved with and I bring these attributes to my career in real estate.
My extensive knowledge of the Hastings area and my many contacts within the local community provide me with a great advantage within this profession and I am excited to be able to use this to benefit my clients.
02 6584 1199
02 6584 1119
0422 788 879